Welcome to the May 2012 Simplicity Parenting Carnival: Organizing
This post was written as part of the monthly Simplicity Parenting Carnival hosted by The Lone Home Ranger and S.A.H.M. i AM. This month we are discussing how we organize our lives. Be sure to read to the end to see a list of the rest of the excellent carnival contributors.
***
I'm a moderately organized person who dreams of being more organized. Periodically I feel like I'm making progress and getting closer to my goal but then life gets in the way and I start over at square one.
Like when we found out we were pregnant again. I am overjoyed to be pregnant but it definitely threw a wrench in my housekeeping/cooking/toddler-activity-organizing schedule. I went from feeling slightly organized to being completely overwhelmed by the bare minimum.
Now that I've reached the second trimester and I'm starting to feel more human, I'm once again searching for organization. Part of me dreams of a perfectly organized house but mainly I just want to get done everything I need to do when it needs to be done. I don't want to forget anything. I feel better if we have a regular routine and I know getting into a good daily rhythm will help me when the baby arrives (and mixes things up once again!).
That said, I'm still functioning on a day-to-day basis. I'm feeling better but I have to be careful not to overdo it. Right now I'm focusing on two things.
First, I'm trying to get L. involved in as much of what I need to do around the house as possible. Over the last few months that I haven't been feeling well, she's heard a lot of "not right now" and "maybe later" and "let's watch a movie." Not my favorite things to tell her. By involving her in what I'm doing we have important time together while she has my fairly undivided attention, she gets to be excited about being a "helper", and we have a general daily routine.
To do this I've resurrected her "chore" chart. It's filled with a bunch of real "chores" and also fun activities. I'm trying to make play and other tasks interchangeable. It's all supposed to be fun right?
Her chore list includes the following:
Brush/hair teeth (am)
Water garden
Yoga with Mom
Help with dishes (she either hands me clean dishes or plays with water in the sink while I do dishes)
Pick a project (could be
painting
, a play date, puzzles, board game, make believe,
going to the park
)
Put away toys
(again, we generally try to make this a game and there is lots of singing)
Dance party
Sweep floors
Play in bathtub
Brush teeth/hair
Read books
Share favorite part of day
You'll notice most her "chore" list is actually
my
chore list. It looks like a lot but most of it we do without thinking. It's the things I need to get done everyday as well as much of the playing L needs to get done every day. The last four items are simply her favorite parts of our bedtime routine. By involving L in the real/play activities it
tests my patience
helps me keep the day fun and relaxed but it also helps me get things done. And of course L. loves putting stickers on her chore chart.
Doing these things in approximately the same order every day gives us a relaxed routine. We brush hair first thing before breakfast. We water the garden after breakfast. We do the dishes before making more messes (picking a project). We put the toys away before the dance party so we have lots of space. Obviously, snacks and nap time and all that fit in there as well and there is definitely more playing than is on the list. However, having it on the list means that there are specific times of day when she knows she'll have my sole attention and we'll play together. Much of the day she's content to entertain herself.
I know you're thinking, "but aren't you letting go of lists?" Well, I am. This list is not set in stone. Since it's stuff we do each day it doesn't feel like a list. I don't stress out if we don't get to something. Some days I do more dishes than others and some days we're not home and miss most of the items on the list. Some days we don't water the garden. Sometimes L will sweep and I won't. I don't beat myself up if we don't get everything done every day. At least some of it is getting done.
And I am letting go of my lists. Typically, I have long lists of everything I need to get done each day. I'm not doing that anymore. I'm still trying to make our
weekly menus
and
daily snacks
ahead of time to minimize stress and food waste. But aside from my daily goal of keeping the sink free of dishes (when the kitchen is messy, the whole house feel more dirty and overwhelming to me) I've been choosing one thing to focus on each day and I'm not keeping a list.
Last Wednesday I organized clothes. I folded laundry and packed away all my pre-pregnancy clothes that no longer fit. I also packed away all the winter clothes we won't need until at least December. Thursday, I harvested peppers and okra and re-staked the pepper plants. Friday I made popsicles. Today I'm going to vacuum.
One goal at a time is less overwhelming than looking at the
huge
list of things I want to get done before the baby comes. That list (like the rest of my lists) is probably not realistic. However, looking at each day as it's beginning and choosing one thing I feel I can handle
that day
is manageable and so much simpler. It also reduces the chance that I'll leave a load of laundry molding in the washing machine for several days because I got distracted and forgot I was washing clothes.
When I have a big list in front of me I tend to do the quick, easy stuff first. I want to cross stuff off the list. I want to feel like I'm making progress. By the time I finish the silly stuff I don't have energy for the big stuff. The big stuff stays on the list day after day.
By choosing one thing each day I tend to let go to let go of the small stuff and focus on the more important things that really need to get done. If I don't finish a goal in one day (if it's too big a project) I can continue the next day or whenever I'm feeling up to it. At least I started working on it. Or, I can do a big goal one day and do something less exhausting the next day.
Are you a list maker? What is your trick to feeling organized without getting stressed out?
***
Thanks for reading the Simplicity Parenting Blog Carnival! We hope you'll take time to read these other great contributors' posts: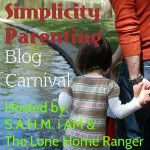 Thanks to all the fabulous writers and readers for being a part of our simplicity parenting community! Stop by
The Lone Home Ranger
and
S.A.H.M. i AM
to see how to join us for a future carnival.
This post is also a part of Frugal Days, Sustainable Ways.