Welcome to the June 2012 Simplicity Parenting Carnival: Green Living
This post was written as part of the monthly Simplicity Parenting Carnival hosted by The Lone Home Ranger and S.A.H.M. i AM. This month we are discussing how we find ways to be more natural parents and stewards of the environment. Be sure to read to the end to see a list of the rest of the excellent carnival contributors.
***
A few months ago I wrote a post for BlogHer about "Green" living. I listed
8 simple things
you could right away to make your lifestyle more eco-friendly. Even though I listed things that we actually do at our house, I have to confess, it's not always easy or simple.
There are things on that list that we definitely do every day. We use cloth napkins and don't buy paper towels. We use towels and dish rags. I use homemade
laundry detergent
. We use refillable water bottles. I make many of my beauty products and household cleaners. Blah, blah, blah. You can read the
other post
.
However, sometimes it seems like hard work. I may wash our clothes on cold...and then forget they're in the washing machine until 8pm when it's too late to dry them on the line. I had a huge pile of laundry to wash this weekend because I ran out of our
laundry powder
and had to wait until we went to the store for washing soda to make more. I typically depend on someone else for transportation to the farmer's market and haven't been able to go in weeks. When I miss the market I buy what little organic I can find at the grocery store and try to stick to the
clean fifteen/dirty dozen
lists.
But sometimes it's just not possible and I have to buy conventional produce.
Did I mention I'm buying organic shampoo because about week 7 of my pregnancy my hair decided it didn't like the
baking soda/vinegar
business? I've been meaning to restart our compost bin for months but haven't managed to find the energy. We have more plastic (toys, dishes, you name it) in our house than I care to admit. Last week
making yogurt
I broke four jars and wasted a gallon of milk. The recipe has been updated accordingly.
It's not always easy being green. Being "Green" can be hard work.
Lately, finding sustainably raised, grass-fed, antibiotic and hormone free meat has been my biggest challenge. Our grocery store only has ground beef that meets that description (okay, my husband would point out that periodically they carry tiny steaks and some chicken tenders too). Nonetheless, the supply is very limited and it's ridiculously expensive. But, as someone who spent most her life as a vegetarian, knowing I'm feeding myself and my family healthy meat is a huge concern. A friend of mine wrote
this post
about their choice to buy sustainable meat and it expresses my views completely.
So, I've been stressed about finding good meat and, after being generously gifted a chest freezer that is now sitting happily in our garage, we took a trip to a local farm yesterday afternoon to buy ourselves some meat. Edelen farm is a tiny family farm near Alice, TX. They raise organic, grass fed beef with no hormones, antibiotics, or pesticides as well as chickens for eggs and roasting. The chickens are free of all the yucky stuff too. They also have raw milk, butter, cheese, and honey available. I would link to their website but they don't have one. They're that tiny.
Most of the chickens were hanging out in the shade since it was 105 degrees F at the farm yesterday.
For buying directly from the farm and in bulk (we bought over 30 pounds of meat) we saved 18% off our bill which was super awesome.
Was it more difficult than buying feedlot beef at the grocery store? Yes, it was. We drove 2 hours in 100+ degree heat to get there and back (I calculate the drive is still better for the environment and our health than feed lot meat) and we spent a lot of money, even with the discount. Did I mention it was 105 degrees outside at the farm?
My little family braved the heat to visit the few chickens not hiding in the shade.
But it was totally worth it. We met the farmer. We saw the chickens. We saw the cows. We petted the barn cat and dog. I know where our meat (and eggs and honey) are coming from. I know it's healthier for me and my family and the planet.
The brave chickens who did not fear the sun.
Now we have a freezer full of high quality organic meat--ground beef, two types of roasts, steaks (in more cuts than I knew existed), stew meat, and several whole chickens. It's going to last us months and months and, even though it was more work and money today, I don't have to worry about where we're going to get our meat for a long time.
Being "Green" isn't always easy. Sometimes definitely requires more effort. But it's always worth it.
Why? Because last night, while sitting on the potty, L asked if we could get a goat. Seriously, there are a million reasons why being "Green" is worth the energy but that's my favorite.
***
Thanks for reading the Simplicity Parenting Blog Carnival! We hope you'll take time to read these other great contributors' posts: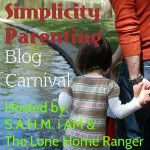 Thanks to all the fabulous writers and readers for being a part of our simplicity parenting community! Stop by
The Lone Home Ranger
and
S.A.H.M. i AM
to see how to join us for a future carnival.
This post is also part of Seasonal Celebration Sunday and Simple Lives Thursday.