Welcome to the October 2012 Simplicity Parenting Carnival: Holidays
This post was written as part of the monthly Simplicity Parenting Carnival hosted by The Lone Home Ranger and S.A.H.M. i AM. This month we are discussing how we simplify the holiday season. Be sure to read to the end to see a list of the rest of the excellent carnival contributors.
***
This year preparing early and keeping Christmas simple is a necessity. (Yes, it's October and I'm talking about Christmas.) Simple is our preference every year but I'm generally working on projects and rushing to finish gifts up until the last minute. This year, with a baby due between Thanksgiving and Christmas,
preparing in advance is not optional.
Salt dough ornaments waiting to be painted...
I'm really looking forward to the holidays. I'm only just barely resisting the urge to turn on the Christmas station on Pandora. I love winter. I love Christmas. I love creating family traditions (especially now that we have kids. I remember how important family traditions were to me as a child and know how children use them to
integrate the different parts of the year
). I love the smell of a Christmas tree. I love seeing our home filled up with messy holidays crafts and decorations.
On the other hand, my husband and I
don't
love the stress and pressure to shop, shop, shop, and spend, spend, spend. It makes me distinctly anxious.
This year we're trying to avoid the stress and focus on the parts of the holidays that are really important to us
--specifically, spending quality time with family, creating family traditions, and doing kind deeds for others. These are the parts of the holidays we want to carry on throughout the rest of the year.
However, since our baby is due December 2nd (give or take a few weeks) I know that this year will need to be much more low key. We're planning to spend as much time as possible hunkered down as a family while my husband is off work and since I don't know what my recovery will be like this time around, I'm not counting on myself to be up baking cookies and supervising crafting in the weeks before Christmas.
Consequently, I'm making cookies early and freezing the dough for easy baking later. I'm planning to put up our Christmas decorations right after Thanksgiving (we already have decorations we've made or been given by family). I've been stockpiling
homemade jams
and salsas and other little goodies to give as gifts, and I'm creating simple advent activities that can be done easily by a three-year-old (yikes, she'll be three! She'll have a birthday before the baby arrives) either in bed with mom and baby sister or with Dad.
Although I know I'm in danger of spoiling the surprise for many of our friends and family, I want to share a few of the simple homemade gifts I have my eye on this year. Some of these have been completed already and some of them are on the list to make soon...for more ideas you can check out my
Gift Ideas
Pinterest board. I'm sure I'll be collecting more ideas over the next few weeks!
Here's what we've been working (or planning to work) on:
Hot Chocolate
and
custom mugs
Citrus Salt Scrub
Salt dough ornaments (we've been experimenting with recipes. We're trying
this one
next).
Granola
Fabric coasters
And of course the aforementioned
homemade jams
, salsas, and other yummy canned goodness. We tried this
jam recipe
last week and really like how it turned out!
I love making the gifts we will give the people in our lives. I love that L can help me and, aside from all the good things about the experience of creating, start to understand how special it is to give someone something you've created yourself. It may seem more complicated to make gifts but I've found it's not...at least it's not if you don't try to do it all in one day!* An added benefit of making gifts and starting early (aside from the fact that we don't have to battle traffic at the mall) is that we end with little things on hand throughout the year if we ever need a quick thank-you gift or a nice pick-me-up for a friend.
But more than anything else this holiday season I'm looking forward to being with my family. I'm looking forward to slowing down and staying home in a warm, cozy house filled with the smell of baking cookies and pine needles, sparkling Christmas lights, reading books in bed, snuggling with my family, and a new baby in my arms.**
*In full disclosure we did purchase some gifts for L. I haven't avoided stores entirely. I'm not immune to consumerism...but they are items I'm sure will be well used throughout the coming years.
**Okay, I know this is a super rosy picture of our lives with our new baby...I'm sure we'll have plenty of challenges as we adjust to being a family of four. However, I'm trying to think positively!
How do you keep the holidays simple? What are your favorite homemade gifts you love to give (or receive)?
***
Thanks for reading the Simplicity Parenting Blog Carnival! We hope you'll take time to read these other great contributors' posts: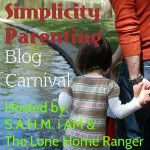 Thanks to all the fabulous writers and readers for being a part of our simplicity parenting community! Stop by
The Lone Home Ranger
and
S.A.H.M. i AM
to see how to join us for a future carnival.
This post is also part of Simple Lives Thursday, Frugal Friday, and Frugal Days, Sustainable Ways.