Welcome to the November 2012 Simplicity Parenting Carnival: Food
This post was written as part of the monthly Simplicity Parenting Carnival hosted by The Lone Home Ranger and S.A.H.M. i AM. This month we are discussing how we balance food, family, and simplicity. Be sure to read to the end to see a list of the rest of the excellent carnival contributors.
***
Until recently, cooking and freezing meals ahead of time never occurred to me. I knew there were people out there who did such things but I wasn't one of them. I'd cook a dish and freeze servings for lunches while I was working outside the home (and my husband does the same now) but I never thought about doing the same for our family meals. I wanted our dinner to be fresh and from scratch, everyday. That didn't always happen but it was my goal.
Over the summer we were gifted a chest freezer and I started looking into freezing meals to have on hand after
our baby girl arrived
. When I was pregnant with L we didn't have a freezer at all so freezer cooking was new territory for me. I started experimenting with our favorite recipes to see what froze well and what didn't. I realized it we would still be eating fresh, from scratch meals even if they'd been frozen a while first. It was a revelation.
Mac n' cheese
(I used gluten-free noodles and flour to make it gluten-free),
chicken pot pie
, and
pizza
(I made BBQ chicken, Greek, and veggie and froze them toppings and all) all did better than expected. I had to remember to allow adequate time for thawing (for the mac n' cheese and the pot pie) and adjust the cooking times a little bit. I was really surprised by how well everything tasted after being frozen.
But it was a lot of work cooking and freezing the above mentioned dishes. They're not too time intensive when cooked individually but making all of them at the same time was exhausting. I started looking for ways to cut corners. Each week when J and I sat down to make our menu I made sure there were meals on the list that could be easily doubled and frozen. It was so much simpler! It was
much
easier to double one meal at a time than to set aside an entire day for cooking.
Slowly but surely, over the last few months, we filled our freezer. Many of the meals came in handy toward the end of my pregnancy when I was too tired to cook everyday or when I was on
modified bed rest and taking it easy
. I'd hoped to add some pizzas and another pot pie to the freezer before the baby arrived but it wasn't in the cards. As it was, I did have a frozen mac n'cheese and a batch of mashed potatoes that I was able to contribute to Thanksgiving dinner at my mother-in-law's house without doing any actual cooking.
Having frozen meals to fall back on has made life so much easier lately. It's also helped our budget...instead of going out to eat when we can't manage to get dinner together we can grab something out of the freezer. And, it keeps us from eating the same thing over and over when we don't have the energy to be creative. Even when our baby isn't so new anymore I imagine I'll continue to double and freeze recipes to have on hand, just in case they're needed. That said, I still don't see myself cooking
a full month's menu
in a day anytime soon!
Here are a few of the recipes in our freezer right now:
Chipotle Lime Chicken
Honey Garlic Chicken
Sweet Potato Chili
Chile Verde
BBQ Chicken
We also have an abundance of soups (white bean and kale minestrone, cream of asparagus with dill, creamy potato-leek, butternut squash soup and more) that will be fantastic if we ever get any cooler weather. It was 80 degrees yesterday. You'd never know it's almost December. I wish I could give you direct links to the soup recipes but they're all from books and, at this point in my post-partum experience, I can't even tell you which soup is from which book. However, I can give you the titles to the cookbooks currently on top of my "favorites" list and tell yoy that I know for a fact all the soups in my freezer came from one or other of these books!
Feeding the Whole Family
Dinner: A Love Story: It all begins at the family table
The Rhythm of Family: Discovering a Sense of Wonder Through the Seasons
Now that baby E has arrived I'm hoping our freezer meals will last us through the end of the year...and with the wonderful support of our family and friends who have been supplying us with fresh meals, it's entirely possible I'll still have a few on hand when J returns to work!
Do you cook and freeze meals? What are your favorite recipes?
***
Thanks for reading the Simplicity Parenting Blog Carnival! We hope you'll take time to read these other great contributors' posts (Note: Links will all be live by 3pm ET on November 27th):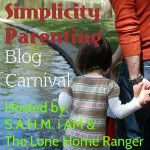 Thanks to all the fabulous writers and readers for being a part of our simplicity parenting community! Stop by
The Lone Home Ranger
and
S.A.H.M. i AM
to see how to join us for a future carnival.
This post is also part of Frugal Days, Sustainable Ways, Simple Lives Thursday, Frugal Friday, and Simple Meals Friday, and Seasonal Celebration Sunday.