Welcome to the February 2013 Simplicity Parenting Carnival: Finances
This post was written as part of the monthly Simplicity Parenting Carnival hosted by The Lone Home Ranger and S.A.H.M. i AM. This month we are discussing how we balance finances, family, and simplicity. Be sure to read to the end to see a list of the rest of the excellent carnival contributors.
***
In my mind, living simply and
living frugally
go hand in hand. My husband and I strive to live this way both by choice and necessity. I would love for our frugal ways to equal absolute simplicity in our finances and in some ways it does. Mostly it doesn't.
Relatively speaking, our financial situation is probably less complex than others. On the other hand, frugality is sometimes more complicated than one would think. Some people probably wouldn't consider us frugal.
Frugality is relative
.
Regardless, we aim for simplicity and frugality. Our daily mantra is "we need to stop spending money." For real. We say that to each other
way
to often. We say it so much it gets annoying.
The less money we spend the simpler our finances, right?
In practice, our definition of frugality is
living within our means.
It doesn't necessarily mean we have less stuff although we're working on that.
Our main goal each month is to
not spend money we don't have
. We don't have credit cards and through a combination of hard work, circumstance, and pure luck, we're currently debt free (let me stress the
pure luck
part of that statement). Aside from our monthly bills we don't owe anyone money. That fact alone provides us with a lot of motivation to keep things that way.
In order to not spend money we don't have we try to stick to a monthly budget. To stay within that budget we've cut out all extra bills (e.g. cable TV, landline telephone, etc.). We try to stick to the necessities. We make a weekly menu to keep our weekly grocery shopping from getting out of control. We avoid eating out as much as we can. I try to make stuff that would be too expensive to buy. We try to buy clothes on clearance or second hand. You get the idea.
Basically, if we don't have the money for it, we don't buy it.
Don't worry, we still have more than enough stuff. Our house is far from barren and I've been known to make an impulse purchase or two. If we absolutely need to buy something that isn't in the monthly budget, it comes out of savings. If there's not money in savings, we wait until we have the money or we ask for help. L is currently taking
swimming lessons
paid for with a combination of very generous birthday and Christmas presents from our awesome families.
Again, let me reiterate how incredibly lucky we are to have a savings account and generous family. Seriously, I can't explain how thankful I am for our savings account and for our families.
I'm sure by this point you're thinking we must never have any fun. We only buy necessities and never spend money on anything non-essential, right? I guess it just depends on your definition of essential. While we avoid spending money on
stuff
, we're more apt to spend money on
experiences
. It's just a matter of saving money in some areas so we can spend it in others...most times with the goal of saving in the long run. At least a small portion of our tax refund will be spent on fun stuff. We can be frugal and spend money on essential experiences that are fun. Still with me?
Here's an example, this year I'm going to get my scuba certification (definitely fun). I'm starting with an intro course I got for half-price through Groupon.com. (See, I'm totally being frugal even though it's a great class at a great dive school.) Down the road having the dive certification will more than pay for itself because I'll be able to dive and do underwater maintenance on our boat when we're living aboard again and/or cruising (which makes it even more frugal
and
essential!).
See how I totally justified learning to scuba dive as a necessity while being frugal?
Let me know if you need help justifying your purchases. I could do this all day.
And I've totally left our topic in the dust.
Let's recap. We live within our means. We don't spend money we don't have. We try to spend as little as possible and save as much as possible. If we want/need to spend money outside our budget, we get creative.
It's easy to make it sound simple on paper. I assure you it's much more complicated in real life.
How do you live within your means? Do you stick to a budge or just wing it?
***
Thanks for reading the Simplicity Parenting Blog Carnival! We hope you'll take time to read these other great contributors' posts (Note: Links will all be live by 3pm ET on February 26th):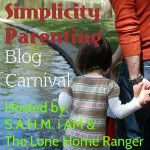 Thanks to all the fabulous writers and readers for being a part of our simplicity parenting community! Stop by
The Lone Home Ranger
and
S.A.H.M. i AM
to see how to join us for a future carnival.
This post is also part of Seasonal Celebration Wednesday.